How to create a fabulous eBook on a low budget
Today I'm sharing with you a presentation I did a couple of months ago on a Google Hangout On Air [HOA] with three amazing ladies from a private Facebook group I belong to, Monette Alterio, Inga Deksne and CJ Rivard.
It was my first presentation on a HOA, so go easy on me!!  😀
The presentation is about "How to create a FAB eBook on a low budget". For those of you that want to create a FREE giveaway, a brochure for your business services/products, this presentation is a step in the right direction… at least a process that doesn't need to be complex.
The content of the presentation will show you…
Why you need an eBook?
What to write about?
Components of an eBook.
Graphics – "Be as specific as possible!!".
Graphics – "Be creative but keep it simple".
Creating in PowerPoint.
Images: Remove background.
Save PowerPoint as a PDF.
Tips and resources.
So, now all it's left is to go and watch the Google Hangout On Air presentation…the presentation is about 40 minutes long so go and grab a drink or a nice cup of coffee, tea and enjoy!!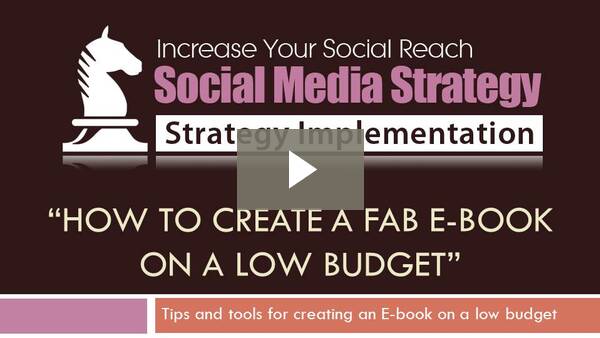 If you want to see this presentation in Slideshare please click here:
I would love to know what you think of it and if you still have any questions that you want answered just leave me a comment below and I'll do my best to answer. I'll soon be doing a new update on how to create a PDF document in Canva to list your small business services price list and much more. Stay tuned…or just ask me any questions regarding this subject or social media strategies development and implementation and I'll try my best to help.
Speak soon.
SIGN UP FOR MORE UPDATES
You will also receive my FREE "Social Media Checklists for Your Business". 
I value your privacy and would never spam you